Predictable drilling performance is the substance of each operational endeavor, and every engineer's career.  Being able to interpret and model data to produce efficient and consistent results is paramount, but the ultimate goal is to extend that precision to well execution itself— eliminating NPT, overhead, and most importantly, hazards to human life. 
Fully autonomous drilling rig operations hope to do just that, and are already delivering on that promise, with several autonomous well completions in recent years.
To meet the demands of these innovations the Harold Vance Department of Petroleum Engineering at Texas A&M University, and the Texas A&M Student Chapter of the Society of Petroleum Engineers, hosted an industry panel on April 3, 2023 entitled "Drilling Automation: Industry Latest Updates".
Moderated by Chief Sales Officer at Data Gumbo, Robin Macmillan, and Texas A&M Professor, Dr. Eduardo Gildin — the panel consisted of representatives from the well services industry, including: Dr. Shashi Talya from Halliburton,  Mark Anderson from Ensign Energy Services, and Director of Technologies from Astra Innovations, Brian Blackwell, who heads development of the drilling analytics platform, Animo.
Topics included integrating autonomous technological advances into larger operational workflows; the history of drilling automation and how we can best understand current applications and limitations; and the role that data has and will play in the autonomous rigs of the future.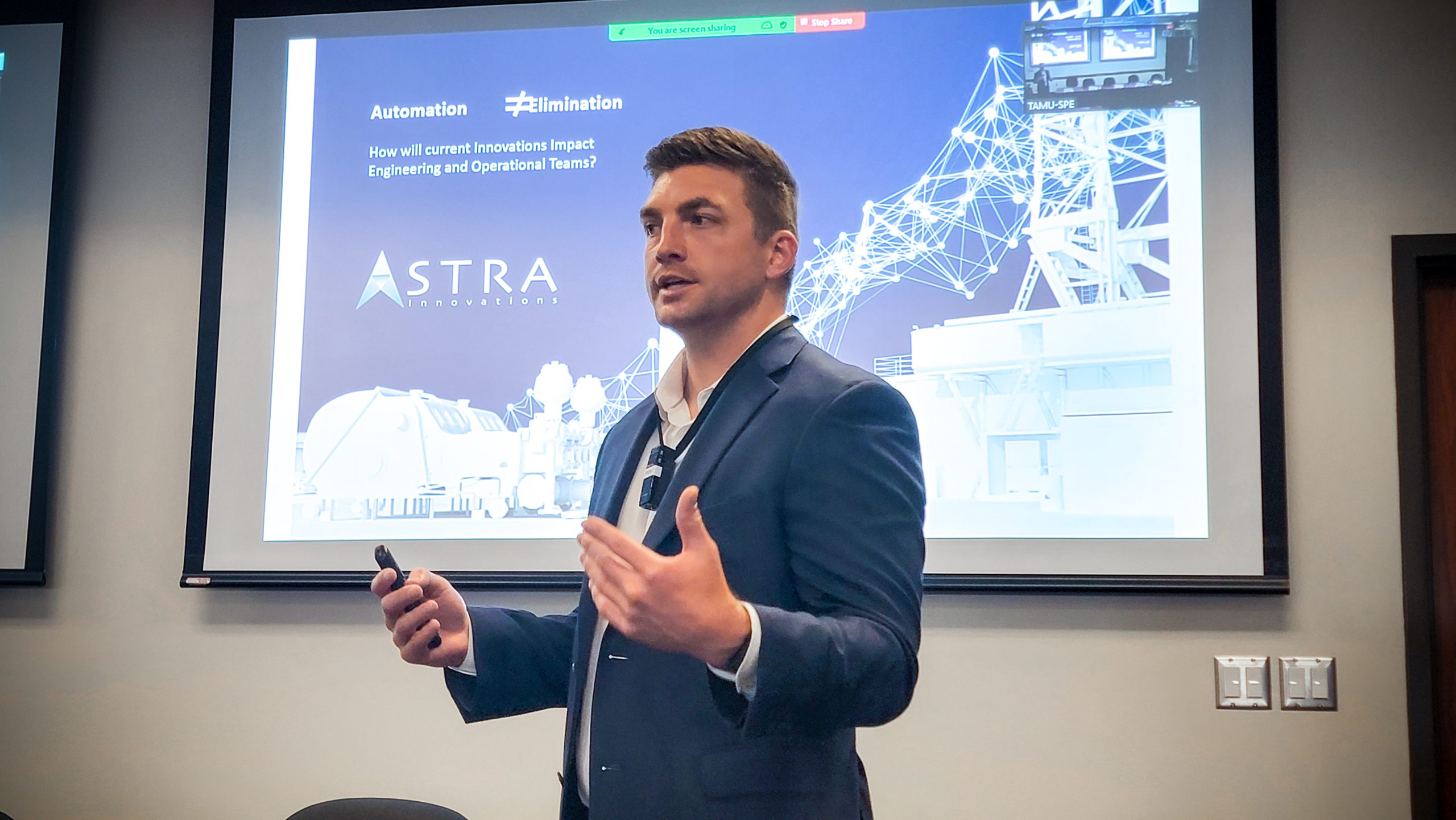 Brian Backwell offered insights towards just how much operational data collection and interpretation has changed in the last few decades, and what Animo Drilling Performance is doing to meet the scope, quality, and interpretive demands of the vast amount of data available today. His platform, Animo, offers critical insights to every stakeholder in the drilling industry  – from operational executives to engineers, and engineering students alike. 
Ultimately, Animo prides itself as the oilfield's most adoptable analytics platform — offering seamless integration with existing operational workflows, remote collaboration, and the ability to connect boots to the boardroom – where the best data and visualizations, can produce the best decisions.
One day, however, the data will make those decisions by itself, as artificial intelligence continues to advance at breakneck speeds on our way to the truly autonomous drilling rigs of tomorrow. Animo plans to be there too, as an aggregative player in well-site data streams of every source, type, and frequency. Until then, it puts the best operational analytics into the flesh and bone decision makers here among us.
——
Astra Innovations has expanded its communications to all major social networks. Follow us on Linkedin, Facebook, Youtube, Vimeo, and Twitter with the links below.